Honda Tire Rotation
Three Main Benefits to Having Your Tires Rotated
1. Tire rotation can preserve your vehicle's balanced handling and help maintain tire traction. This is especially important when roads are slick from rain, sleet, or snow.
2. Many tire manufacturers require regular rotation in order to keep your tire warranties valid.
3. Rotating your tires helps even out wear on the tires themselves. By allowing every tire to work in each of the vehicle's four positions, you'll ensure they all receive the same amount and types of wear. This prolongs tire life, saving you hassle and money in the long run.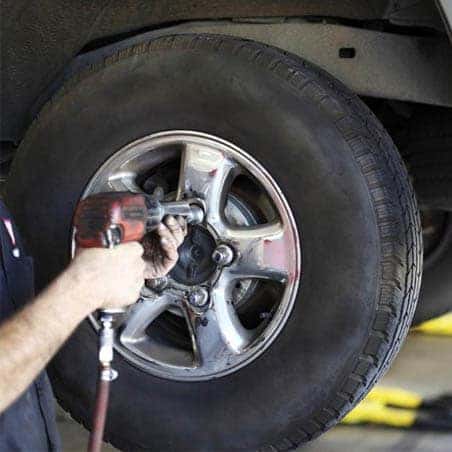 Honda Tire Rotation in San Antonio
Switching your vehicle's tires around from one position on your vehicle to another is an incredibly beneficial service called "rotating your tires." Your Honda requires regular tire rotations for a number of reasons.
You can check your owner's manual to find out how often it is recommended to rotate the tires on your vehicle's exact make and model. The standard rule is to do so roughly every 5,000 miles, give or take.
To make things easier to remember, many mechanics suggest simply having your tires rotated every other time you bring your Honda in for an oil change.
However, how often you need your tires rotated can be affected by how heavily you drive your vehicle, so it is important that you perform self-inspections periodically. This just means you should visually check your tires to look for damage or uneven wear and tear. If you do find anything — cracks in the tire wall, bulges, worn treads on some tires and not others, etc. — then you should bring your vehicle in immediately to be checked by a professional.
The best option is always to have your Honda inspected and serviced by Honda Certified Technicians. For Honda drivers in the San Antonio area, there's no place better than Fiesta Honda.
Our team of Honda experts will be able to inspect your vehicle and quickly asses whether or not services such as tire rotations are currently necessary. We will then be able to carry out all services using the very best in Honda OEM parts, fluids, and procedures.
When it is time to have your tires rotated, we have the Honda-specific tools, experience, and knowledge to fully restore your vehicle to exact factory specifications.
Don't wait to get your tires serviced. Doing so can lead to further damage and potentially cause accidents while you are driving. To ensure the safety of you and your loved ones, and to spare yourself the hassle and expenses that come with prolonging service, schedule an appointment today with Fiesta Honda when your tires need to be rotated. We look forward to your visit!