Honda Timing Belt Repair and Replacement
Signs it May Be Time For a New Timing Belt
Material Loss

Belt Abrasion

Cracking

Glazing

Piling

Hydroplaning

Elongation

Misalignment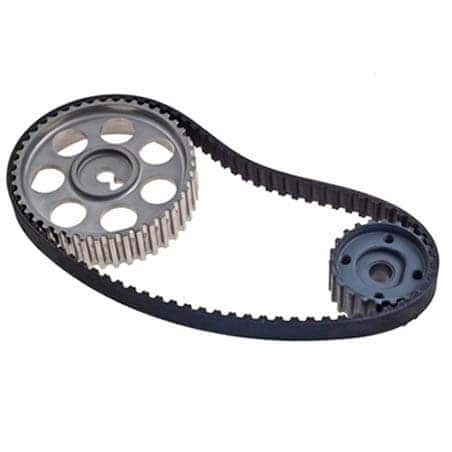 Honda Timing Belt Repair & Replacement in San Antonio
Your Honda's timing belt is a crucial component in the successful operation of your car, van, truck, or SUV. It regulates the camshaft and crankshaft, which operate on precision timing, alignment, and coordination. If the timing belt stretches out, slips off, or snaps, it will throw off this regulation and result in the immediate, complete shutdown of your vehicle.
If your timing belt does break, it will result in major engine damage and costly repairs for you. Your best bet is to replace your timing belt in a timely manner before any serious reparations become necessary.
8 Signs Your Timing Belt Needs to be Repaired or Replaced
Material Loss –

Belt wear is just like tire wear in that it loses traction. The timing belt can slip off, leading to engine failure. This is more likely to happen during high load use (pulling a trailer or caravan) or in wet weather.

Belt Abrasion –

This normally occurs when there is a tensioner or pulley misalignment, excessive heat or bearing failure. Your belt's edges will have worn down to the filaments inside.

Cracking –

You'll see excessive cracks on the topside and underside (rib cross-section).

Glazing –

This is when the timing belt has a shiny or glossy appearance on the underside. It means the belt has gone stiff and isn't providing the necessary flexibility to function properly.

Piling –

Your timing belt will naturally lose material over time. This substance can build up in the rib cross-sections, causing belt noise and excess vibration.

Hydroplaning –

This occurs when water cannot be dispersed away from the warm belt and pulleys. The belt then hydroplanes on water between the belt and pulleys, which causes a loss of power to engine accessories.

Elongation –

Material loss on your timing belt can also change the effective length of the belt, moving the tensioner beyond its take-up limit. This will reduce overall tension and, consequently, performance.

Misalignment –

This type of wear indicates that the tensioner internal components may have failed. This will result in a high level of noise, vibration, and excessive heat.
Here at Fiesta Honda, we regularly provide full services for all Honda models. If the damage to your timing belt is minor, repairs may be a cost-efficient option to get you back on the road safely. Our team will use the very best in Honda approved procedures and OEM Honda products to restore your vehicle to exact factory specifications.
If your timing belt does need to be replaced, we will do so using the very best parts designed exclusively for your Honda's exact make and model.
Trust Fiesta Honda with all your timing belt service and replacement needs!