Honda Battery Replacement San Antonio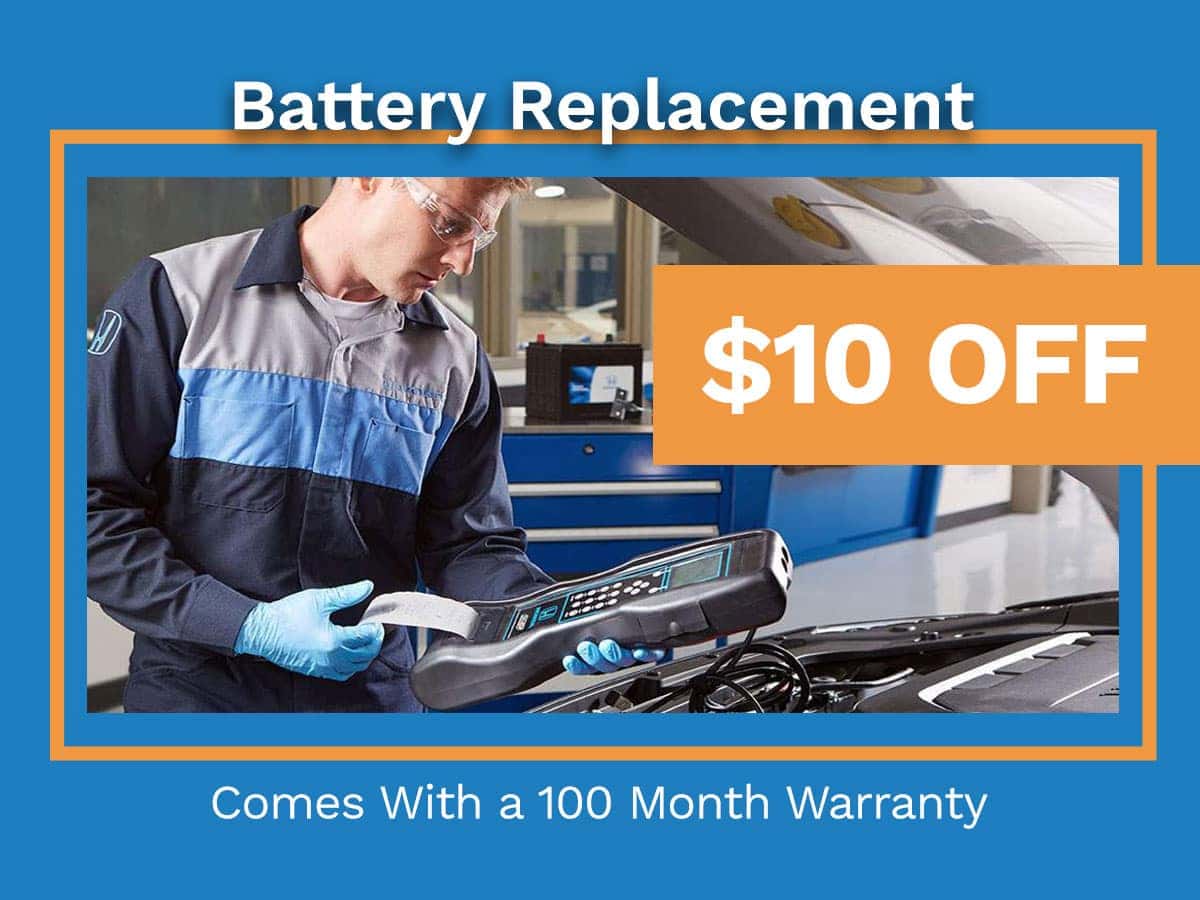 Battery Replacement
$10 OFF
*Offer valid only at Fiesta Honda. Must present coupon when order if written. Not valid with any other special, coupon, discount or commercial order. See dealer for complete details.
EXPIRES: 12/31/2018
Trust Fiesta Honda With All Your Battery Needs!
Honda Battery Service in San Antonio
It's early. You weren't quite ready to get out of bed, but you have a packed schedule. You've got just enough time to stop and get coffee before you have to be at work. You get in your car, turn the key, and —
Nothing. Your engine cranks, but your vehicle won't start. You're stuck. Your battery is dead.
We've all been there. The worst is when you're away from home, and you find yourself stranded in a strange place waiting for someone to give you a jump start. It's not a fun situation to be in.
That's why Fiesta Honda makes it easy to stay on top of your battery service and replacement.
Signs it May Be Time For a New Battery:
Slow Engine Crank
Check Engine Light
Low Battery Fluid Level
Swelling, Bloating Battery Case
Battery Leak
Your Battery is More Than Three Years Old
Bad Smell
If you're a Honda driver in the San Antonio area, you can swing by Fiesta Honda anytime during regular business hours for a battery test. We'll check your battery's charge and physical condition to make sure you're good to go. We'll alert you immediately if you need any further services or a battery replacement — all of which our Service Team would be more than happy to assist you with.
You can also follow your Honda's service schedule, which can be found in your owner's manual and details how frequently it is recommended you buy a new battery. The standard rule is to install a replacement every three years, but sometimes your battery gives out sooner or lasts longer.
After three years, it's important you come into our San Antonio location for occasional Honda battery tests.
Keep an eye out for the listed warning signs that your battery is in trouble.
When it is time for a new battery, Fiesta Honda will hook you up right. We know your vehicle inside and out. We will only ever use the best genuine Honda OEM parts to replace your battery, and we will have everything installed to exact factory specifications in no time.
There's no place better in the Alamo City for Honda service. Schedule your service appointment with Fiesta Honda today!