Front Brake Service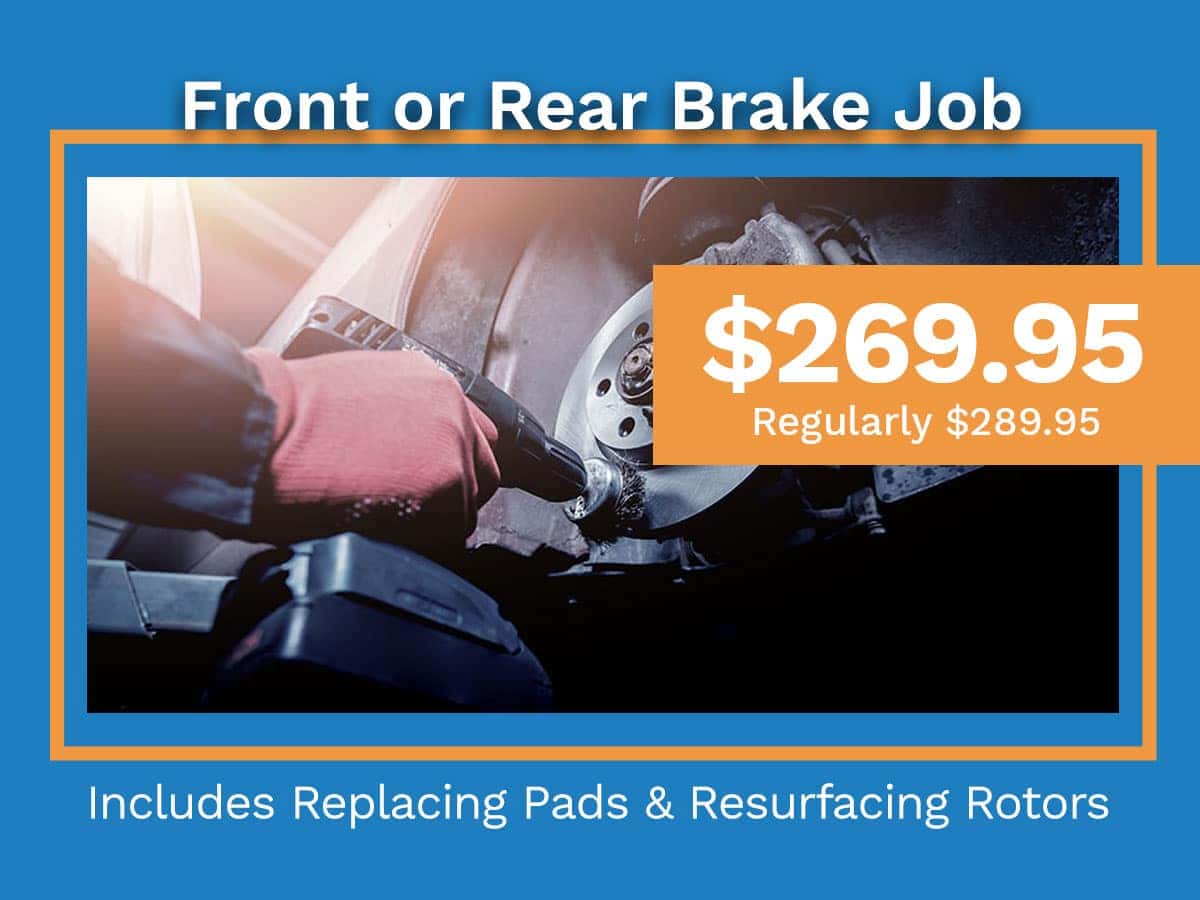 Front or Rear Brake Job
$269.95
*Offer valid only at Fiesta Honda. Must present coupon when order if written. Not valid with any other special, coupon, discount or commercial order. See dealer for complete details.
Expires 12/31/2018
Certified Honda Front Brake Service
When it comes to the upkeep of your vehicle, one thing you definitely shouldn't put off is brake service.
When your brake pads wear too thin, this can cause excessive wear on your brake rotors and lead to expensive repairs – or even total brake failure.
Fiesta Honda is here to help you keep this from happening. We always offer a fair price on all of our services, including work on your brake. For a limited time, you can save even more on an already great value!
We recommend you get this service every 25,000 – 75,000 miles, depending on the make and model of your van, car, truck, or SUV.
Consult your Honda owner's manual to see the recommended mileage marker for your specific vehicle and then keep in mind this number is a suggestion.
How often you need to have your brakes serviced can be affected by how heavily you drive your vehicle.
If your rotors are too worn or warped, they will need to be replaced.
However, If your rotors have sufficient metal remaining with no hard spots, cracks, severe grooving or rusting, then they can simply be resurfaced.
Having your rotors resurfaced while you can keep them from becoming too damaged and saves you money in not having to replace them.
Let the experts at Fiesta Honda inspect and service your vehicle in the way that best suits your Honda's needs and your budget.
Take advantage of this special offer while you can! 
Frequently Asked Questions
Are There Signs That My Brake Pads Need to Be Replaced?
7 Signs You Need To Replace Your Brake Pads
The Brake Pedal is Pulsating

The Brakes Make a Clicking Noise

The Brake Pads Appear Too Thin

The Brakes Make a Screeching Sound

The Brakes Make a Grinding Sound

There are Deep Grooves in the Rotor

The Car is Pulling to One Side or the Other
Are There Signs My Rotors Are Damaged?
3 Signs Your Rotors are Damaged
Noisy Brakes –

Warped or severely worn rotors may produce squealing or squeaking sounds. Usually, warped rotors will squeak, while severely worn will produce a scraping sound.

Vibrations from the Brakes –

These vibrations can be felt in the brake pedal, and sometimes through your Honda's chassis. Warped rotors may also produce a pulsating feel that will be felt in the pedal when the brakes are applied.

Grooves or Score Marks on the Rotor – Visual scoring or grooves on the face of the rotor indicates it is bad or failing. These marks occur because of repeated contact with the brake pads. These marks can take away from the rotor's ability to slow the vehicle, as well as cause vibration and pulsations felt in the pedal. These marks typically signify a need for complete rotor replacement.
Trust Fiesta Honda With All Your Front Brake Needs!