Check Engine Light Diagnostics
Top Reasons Your Check Engine Light May Come On
Oxygen Sensor needs replacing

Gas Cap is Loose, Damaged, or Missing

Catalytic Converter Needs Replacing

Swelling, Mass Airflow Sensor (MAF) Needs Replacing

Spark Plugs or Plug Wires Need Replacing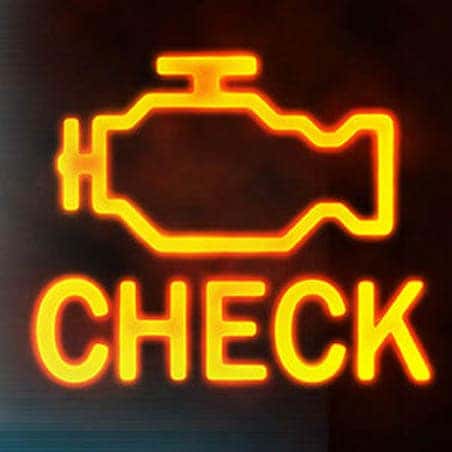 Honda Check Engine Light Diagnostics in San Antonio
Your Check Engine Light can come on for a number of reasons, and be indicative of several different problems with your vehicle's engine.
The top five culprits for this warning light are:
Oxygen (O2) Sensor needs replacing —

If you don't replace a faulty oxygen sensor, your engine will burn more fuel than is necessary. If this problem is ignored, you may experience as much as 40% loss on your vehicle's fuel economy as well as suffer damage to your spark plugs or catalytic converter.

Gas Cap is loose, damaged, or missing —

 If this issue is not resolved, you will lose fuel through evaporation and end up making more trips to the gas pumps.

Catalytic Converter needs replacing —

Your Catalytic Converter helps protect the environment by converting harmful carbon monoxide into carbon dioxide. If you don't replace this part when necessary, your vehicle will fail its emissions test, you will experience reduced performance and fuel economy, and your car will run at a higher temperature than normal.

Mass Airflow Sensor (MAF) needs replacing —

The MAF measures the amount of air entering the engine and determines how much fuel is needed for your vehicle to run. A faulty sensor can cause damage to your vehicle's spark plugs, O2 sensor, and catalytic converter. You will experience reduced vehicle performance and fuel economy if this problem is left unchecked.

Spark Plugs or Plug Wires need replacing —

Your spark plugs ignite the oxygen/fuel mixture in your vehicle's combustion chamber. Without functioning spark plugs or spark plug wires, your vehicle will not run properly (if it runs at all). You will experience poor vehicle performance, reduced power, and reduced fuel economy if this problem is not resolved.
These are not, however, the only problems the light may be alerting you to. That's why it is always best to have a professional conduct a thorough inspection to determine the problem.
For Honda drivers in the San Antonio area, Fiesta Honda is the best place to bring your vehicle for a Check-Engine-Light Diagnostic Exam. Our certified technicians know your Honda's exact make and model inside and out, and we'll be able to swiftly and accurately identify the problem.
We know that failure to receive a reliable diagnosis and the appropriate repairs can result in unsafe driving conditions for our customers. It can also lead to more costly repairs in the future.
So if your vehicle does require service or repairs, our Service Team has you covered. We'll work with you to find a solution and set a service appointment at a time that fits your busy schedule.
If your check-engine-light comes on, don't wait until things potentially worsen. Bring your Honda in for an inspection with Fiesta Honda! We look forward to earning your business.