Brake Flush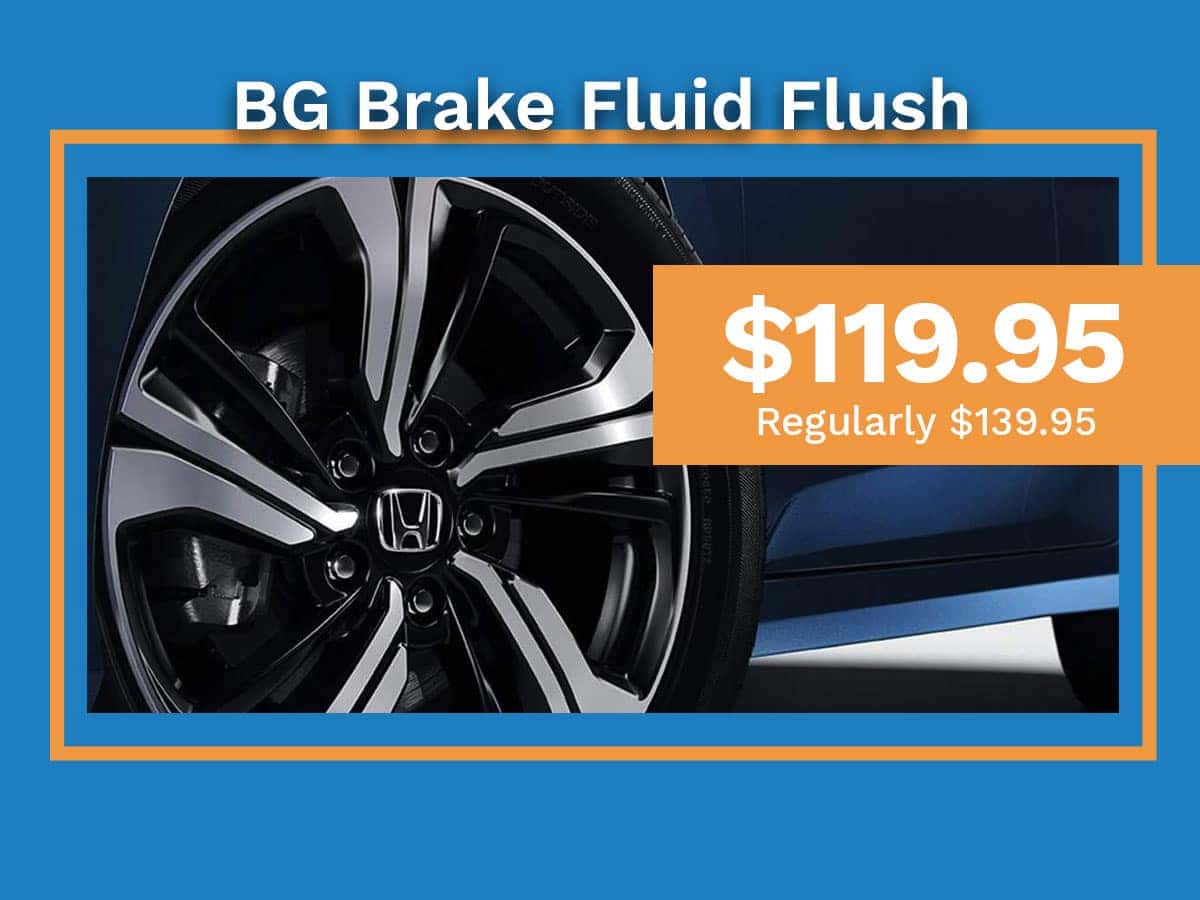 BG Brake Fluid Flush
$119.95
*Offer valid only at Fiesta Honda. Must present coupon when order if written. Not valid with any other special, coupon, discount or commercial order. See dealer for complete details.
Expires 12/31/2018
Certified Honda Brake Fluid Flush Service
A brake system flush includes removing the existing fluid and moisture out of the system and replacing it with new, clean, fluid. A brake fluid flush ensures proper brake system performance and increases the lifespan of your brake system components.
A brake fluid flush is a simple, cost-efficient way to easily prevent more extensive damage down the road. And by using genuine OEM brake fluid, you'll guarantee your vehicle continues to perform its best for as long as possible.
That's why Fiesta Honda always makes it easy to get your brake system flushed. Our Honda certified technicians are happy to do this for you, using the highest quality genuine OEM Honda brake fluid available. We'll use methods and products designed specifically to enhance the performance of your vehicle's exact make and model.
If you've hit your vehicle's recommended mileage marker, or you've noticed any warning signs, schedule an appointment with Fiesta Honda today!
If you come in now through July 31, 2018, you can take advantage of our current brake flush special offer.
Our service team will provide a complete brake flush for just $119.95, replenishing your vehicle's brake fluid with genuine OEM Honda Brake Fluid and restoring your vehicle to exact factory safety standards.
Take advantage of this deal while it lasts!
Frequently Asked Questions
Are There Signs I Need to Change My Brake Fluid?
You have to press the brake pedal all the way down before your vehicle slows to a stop.

You have to pump the pedal multiple times in order to come to a stop.

Your dashboard brake light is on.

You notice signs of brake fluid leak beneath your car. The spots will probably be clear to brown and slick.
When Should Your Brake Fluid Be Flushed or Replenished?
The general rule is to have your brake system flushed every 2 years, or every 15,000 – 30,000 miles depending on the make and model of your Honda.
Consult your owner's manual to find the recommended mileage marker for your vehicle to have its brakes flushed. But keep in mind, this number is a suggestion, and how often you need this service will be affected by how heavily you drive.
Trust Fiesta Honda With All Your Brake Service Needs!